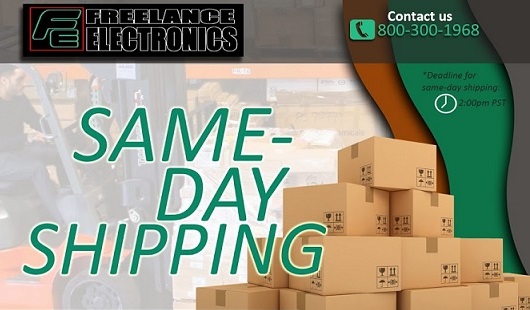 Low $10.00 Line Item and Order Minimum
We have over 99 Million Components in Stock


Shipping Information

We offer flat rate shipping for all web orders. Please reference our shipping rate chart below. All Web Orders are shipped by UPS, and we provide you with the option of using your own UPS account number if desired. If you have a preferred shipping method and or carrier you favor you may call a Freelance Electronics Sales Representative and place your order direct.



* Same day shipping processing cut-off times:
Monday- Friday 2:00 PM PST

US Domestic only
Next Day Air $71.68
2nd Day $30.15
3 Day Select $22.52
Ground $9.50
* International Shipments

International Shipments are estimated rates.
* Final shipment rates will be generated once order is complete and ready to ship out, and amount may differ from estimated rate.