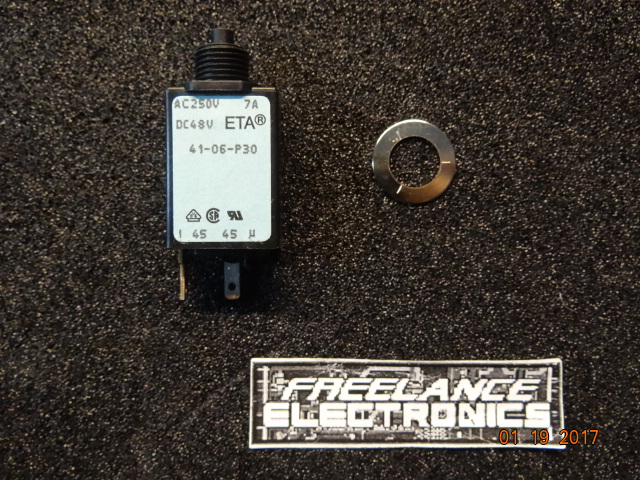 ETA GLOBAL AC250V
Cross Number:
Item Description:
Additional Information:

Category: SWITCH
Is Military Spec.: No
Availability: In Stock
Qty Available: 1
---
Related Items
---
Technical Document
DISCLAIMER: The information provided herein is solely for informational purposes. Customers must be aware of the suitability of this product for their application, and consider that variable factors such as Manufacturer, Product Category, Date Codes, Pictures and Descriptions may differ from available inventory.
This is information on a product in full production.
600 W, 250 V SuperDMOS transistor
Datasheet - production data
Figure 1: Pin connection
Features

Operating frequency up to 27 MHz
OUT
= 600 W typ. with 23 dB gain @
13.56 MHz/250 V

Designed for Class-AB, C, D and E
operation
(BR)DSS
> 1000 V
®
package, using air cavity
packaging technology

In compliance with the 2002/95/EC1
European Directive
Description
The STAC250V2-500E uses the latest RF Power
SuperDMOS technology specially designed for
150 V and 250 V industrial RF power Class-AB,
C, D and E generators such as PECVD, plasma
sputtering, flat panel and solar cell manufacturing
equipment. The STAC250V2-500E benefits from
the latest generation of STAC® air cavity
packaging, which exhibits a 25% lower thermal
resistance compared to equivalent ceramic
packages.
Table 1: Device summary
(1)
For more details please refer to
Section 6: "Marking,
packing and shipping specifications"
.
1 (drain)
2 (source)
3 (gate)
4 (source)
5 (source) on
backside
Contents
1
Electrical data
.................................................................................. 3
1.1
Maximum ratings
............................................................................... 3
1.2
Thermal data
..................................................................................... 3
2
Electrical characteristics
................................................................ 4
2.1
Static
................................................................................................. 4
2.2
Dynamic
............................................................................................ 4
3
Impedance data
............................................................................... 6
4
Typical performance
....................................................................... 7
5
Package information
....................................................................... 9
5.1
STAC177B package information
....................................................... 9
6
Marking, packing and shipping specifications
............................ 11
7
Revision history
............................................................................ 12
(T
CASE
= 25 °C)
Table 2: Absolute maximum ratings
Max. operating junction temperature
Table 3: Thermal data
Junction-case thermal resistance