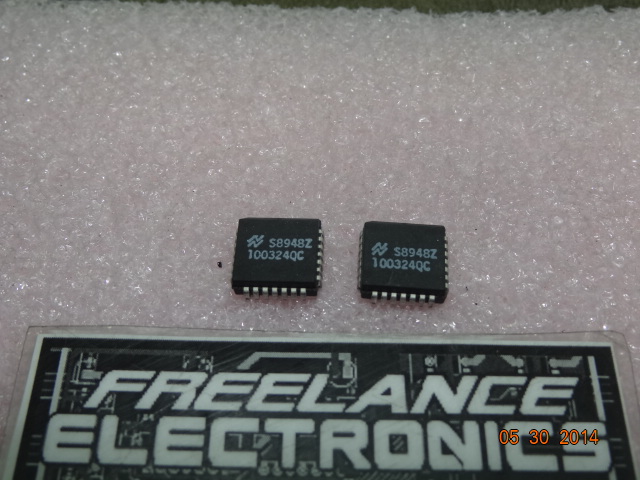 National Semiconductor Corp 100324QC
Cross Number:
Item Description: IC TRANSLATR HEX TTL/ECL 28-PLCC
Additional Information:

Category: IC
Is Military Spec.: No
Availability: In Stock
Qty Available: 6
---
Related Items
---
Technical Document
DISCLAIMER: The information provided herein is solely for informational purposes. Customers must be aware of the suitability of this product for their application, and consider that variable factors such as Manufacturer, Product Category, Date Codes, Pictures and Descriptions may differ from available inventory.
© 2000 Fairchild Semiconductor Corporation
DS009878
www.fairchildsemi.com
July 1988
Revised August 2000
100324 Low Power Hex TTL-to-ECL Translator
100324
Low Power Hex TTL-to-ECL Translator
General Description
The 100324 is a hex translator, designed to convert TTL
logic levels to 100K ECL logic levels. The inputs are com-
patible with standard or Schottky TTL. A common Enable
(E), when LOW, holds all inverting outputs HIGH and holds
all true outputs LOW. The differential outputs allow each
circuit to be used as an inverting/non-inverting translator, or
as a differential line driver. The output levels are voltage
compensated over the full
When the circuit is used in the differential mode, the
100324, due to its high common mode rejection, over-
comes voltage gradients between the TTL and ECL ground
systems. The V
EE
and V
TTL
power may be applied in either
order.
The 100324 is pin and function compatible with the 100124
with similar AC performance, but features power dissipa-
tion roughly half of the 100124 to ease system cooling
requirements.
Features
■
Pin/function compatible with 100124
■
Meets 100124 AC specifications
■
50% power reduction of the 100124
■
−
4.2V to
−
5.7V operating range
■
Available to MIL-STD-883
■
Available to industrial grade temperature range
(PLCC package only)
Ordering Code:
Devices also available in Tape and Reel. Specify by appending the suffix letter "X" to the ordering code.
Connection Diagrams
24-Pin DIP/SOIC
28-Pin PLCC
Order Number
Package Number
Package Description
100324SC
M24B
28-Lead Small Outline Integrated Circuit (SOIC), JEDEC MS-013, 0.300 Wide
100324PC
N24E
24-Lead Plastic Dual-In-Line Package (PDIP), JEDEC MS-010, 0.400 Wide
100324QC
V28A
28-Lead Plastic Lead Chip Carrier (PLCC), JEDEC MO-047, 0.450 Square
100324QI
V28A
28-Lead Plastic Lead Chip Carrier (PLCC), JEDEC MO-047, 0.450 Square
Industrial Temperature Range (
100324
Pin Descriptions
Truth Table
Logic Diagram
D
0
5
Data Inputs
Q
0
5
Data Outputs
Q
0
5
Complementary
Data Outputs
D
n
E
Q
n
Q
n
XLLH
LHLH
HHHL
100324
Absolute Maximum Ratings
(Note 1)
Recommended Operating
Conditions
Note 1:
The

"

Absolute Maximum Ratings

"

are those values beyond which
the safety of the device cannot be guaranteed. The device should not be
operated at these limits. The parametric values defined in the Electrical
Characteristics tables are not guaranteed at the absolute maximum rating.
The
"
Recommended Operating Conditions
"
table will define the conditions
for actual device operation.
Note 2:
ESD testing conforms to MIL-STD-883, Method 3015.
Commercial Version
DC Electrical Characteristics
(Note 3)
V
EE
CC
CCA
C
TTL
Note 3:
The specified limits represent the

"

worst case

"

value for the parameter. Since these values normally occur at the temperature extremes, additional
noise immunity and guardbanding can be achieved by decreasing the allowable system operating ranges. Conditions for testing sho
wn in the tables are cho-
sen to guarantee operation under
"
worst case"

conditions.
DIP AC Electric Characteristics
V
EE
CC
CCA
TTL
Storage Temperature (T
STG
Maximum Junction Temperature (T
J
V
EE
Pin Potential to Ground Pin
−
7.0V to

+

0.5V
V
TTL
Pin Potential to Ground Pin
−
0.5V to

+

6.0V
Input Voltage (DC)
Output Current (DC Output HIGH)
ESD (Note 2)
Case Temperature (T
C
)
Industrial
Supply Voltage (V
EE
Symbol
Parameter
Min
Typ
Max
Units
Conditions
V
OH
Output HIGH Voltage
−1025

−955

−

870
mV
V
IN
IH (Max)
Loading with
V
OL
Output LOW Voltage
−1830

−1705

−
1620

or V
IL (Min)
V
OHC
Output HIGH Voltage
−

1035
mV
V
IN
IH(Min)
Loading with
V
OLC
Output LOW Voltage
−
1610

or V
IL (Max)
V
IH
Input HIGH Voltage
2.0
5.0
V
Guaranteed HIGH
Signal for All Inputs
V
IL
Input LOW Voltage
0
0.8
V
Guaranteed LOW
Signal for All Inputs
V
CD
Input Clamp Diode Voltage
−1.2

V

I
IN
I
IH
IN
Data
20
µ
A

All Other Inputs V
IN
Input HIGH Current
V
IN
Breakdown Test, All Inputs
All Other Inputs
=

GND
I
IL
IN
Data
−
0.9

mA

All Other Inputs V
IN
IH
I
EE
V
EE
Power Supply Current
−70

−45

−
22

mA

All Inputs V
IN
I
TTL
V
TTL
Power Supply Current
25
38
mA
All Inputs V
IN
T
C
C
C
MinMaxMinMaxMinMax
t
PLH
Propagation Delay
0.50
3.00
0.50
2.90
0.50
3.00
ns
t
PHL
Data and Enable to Output
Figures 2, 1
t
TLH
Transition Time
0.45
1.80
0.45
1.80
0.45
1.80
ns
t
THL
20% to 80%, 80% to 20%