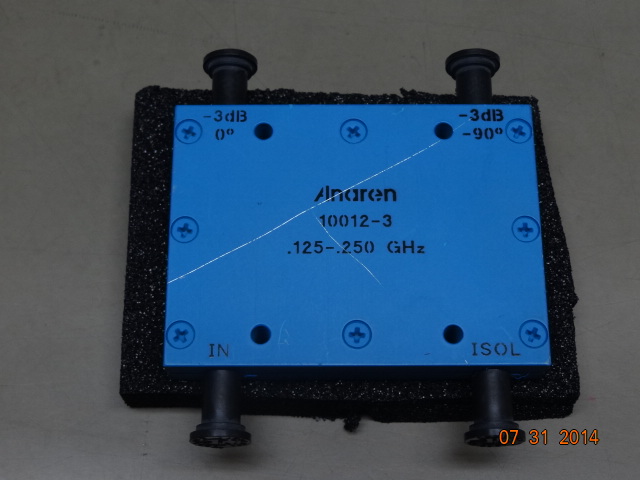 ANAREN 10012-3
Cross Number:
Item Description: COUPLER 3DB 90DEG 125-250MHZ
Additional Information:

Category: COUPLER
Is Military Spec.: No
Availability: Out of Stock
Qty Available: 0
---
Related Items
---
Technical Document
DISCLAIMER: The information provided herein is solely for informational purposes. Customers must be aware of the suitability of this product for their application, and consider that variable factors such as Manufacturer, Product Category, Date Codes, Pictures and Descriptions may differ from available inventory.
USA/Canada:
Toll Free:
Europe
:
(315) 432-8909
(800) 411-6596
Model 10012-3
3 dB, 90
o
Outline Drawing
Applications_____________
•
Connectors Per MIL-C-39012
•
Rugged Aluminum Housing
•
Meets MIL-E-5400 Class 3 Requirements
Electrical and Mechanical Specifications subject to change without notice.
Aluminum Cased Connectorized Components
USA/Canada:
Toll Free:
Europe:
(315) 432-8909
(800) 411-6596
+44 2392-232392
Typical Test Data Plots
Aluminum Cased Connectorized Com
onents
Model 10012-3
VSWR
Ins. Loss / Amp Balance
USA/Canada:
Toll Free:
Europe
:
(315) 432-8909
(800) 411-6596
Model 10012-3
Aluminum Cased Connectorized Com
onents
Typical Test Data Plots
Phase Balance
Isolation