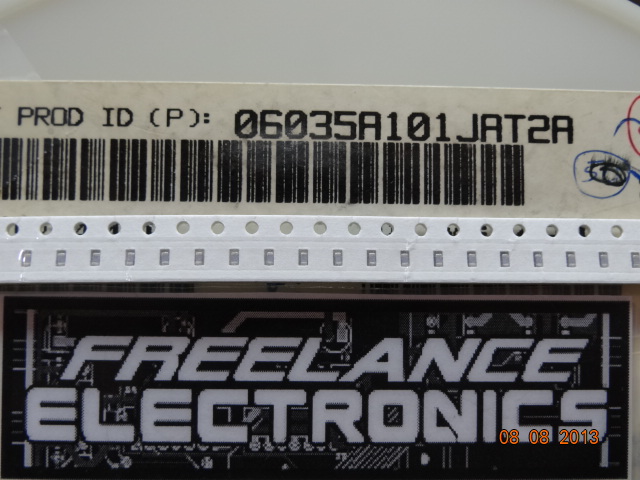 AVX 06035A101JAT2A
Cross Number:
Item Description: CAP 100PF 50VDC C0G 5% SMD 0603 - Tape and Reel
Additional Information:
Category: CAPACITOR
Is Military Spec.: No
Availability: Out of Stock
Qty Available: 0
---
Related Items
---
Technical Document
DISCLAIMER: The information provided herein is solely for informational purposes. Customers must be aware of the suitability of this product for their application, and consider that variable factors such as Manufacturer, Product Category, Date Codes, Pictures and Descriptions may differ from available inventory.
ADSP-BF506F EZ-KIT Lite
®
Evaluation System Manual
Revision 1.0, December 2009
Part Number
82-000226-01
Analog Devices, Inc.
One Technology Way
Norwood, Mass. 02062-9106
Copyright Information
© 2009 Analog Devices, Inc., ALL
RIGHTS RESERVED. This docu-
ment may not be reproduced in an
y form without prior

, express written
consent from Analog Devices, Inc.
Printed in the USA.
Disclaimer
Analog Devices, Inc. reserves the right
to change this product without
prior notice. Information furnished by Analog Devices is believed to be
accurate and reliable. However, no re
sponsibility is assumed by Analog
Devices for its use; nor for any infrin
gement of patents or other rights of
third parties which may result from its us
e. No license is granted by impli-
cation or otherwise under the pate
nt rights of Analog Devices, Inc.
Trademark and Service Mark Notice
The Analog Devices logo, VisualDSP++, Blackfin, the Blackfin logo,
EZ-KIT Lite, and EZ-Extender are r
egistered trademarks of Analog
Devices, Inc.
All other brand and product names ar
e trademarks or service marks of
their respective owners.
Regulatory Compliance
The ADSP-BF506F EZ-KIT Lite is designed
to be used solely in a labora-
tory environment. The board is not
intended for use as a consumer end
product or as a portion of a consume
r end product. The board is an open
system design which does not include a shielded enclosure and therefore
may cause interference to other elect
rical devices in close proximity. This
board should not be used in or near
any medical equipment or RF devices.
The ADSP-BF506F EZ-KIT Lite is curren
tly being processed for certifica-
tion that it complies with the esse
ntial requirements of the European
EMC directive 89/336/EEC amended by
93/68/EEC and therefore carries
the "CE" mark.
The EZ-KIT Lite evaluation system co
ntains ESD (electrostatic discharge)
sensitive devices. Electr
ostatic charges readily a

ccumulate on the human
body and equipment and can discha
rge without detection. Permanent
damage may occur on devices subjecte
d to high-energy discharges. Proper
ESD precautions are recommended to
avoid performance degradation or
loss of functionality. Store unused EZ
-KIT Lite boards in the protective
shipping package.