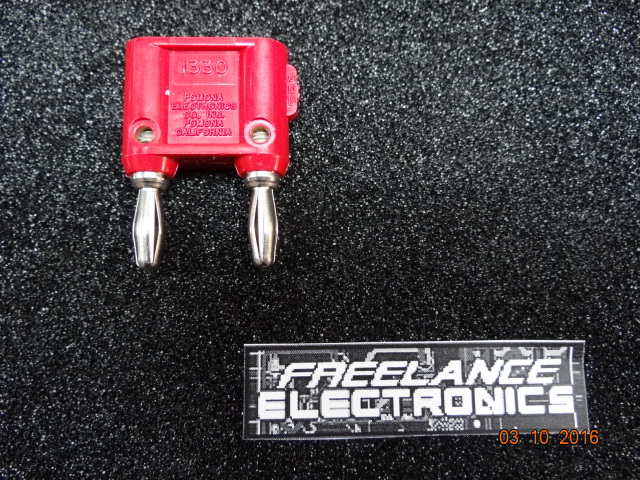 POMONA ELECTRONICS 1330-2
Cross Number:
Item Description: DOUBLE BANANA PLUG RED
Additional Information:

Category: BANANA PLUG
Is Military Spec.: No
Availability: In Stock
Qty Available: 6
---
Related Items
---
Technical Document
DISCLAIMER: The information provided herein is solely for informational purposes. Customers must be aware of the suitability of this product for their application, and consider that variable factors such as Manufacturer, Product Category, Date Codes, Pictures and Descriptions may differ from available inventory.
Pomona
®
All dimensions are in inches. Tolerances (except noted): .xx = ±.02" (,51 mm), .xxx = ±
.005" (,127 mm).
All specifications are to the latest revisions. Specifications are subject to change without notice.
Registered trademarks are the property of their respective companies.
Made in USA
6/9/99
Pomona

ACCESS
90504
(800) 444-

6785 or (425) 446

-

6010
SY/EH/LS
More drawings available at www.pomonaelectronics.com
S:
\

Engineering

\

Release

\
DataSheets
\

FlukeDataSheet

\d1330_1_01.doc

Page 1 of

1
Sales: 800
-

490

-

2361 Fax: 888

-

403

-

3360
Technical Assistan
ce: 800-

241

-2060
•
Features a recessed area for mounting small discrete components with set screws.
•
For test versatility, banana plugs can be vertically and horizontally stacked to the adapter.
•
The Banana Plug features Nickel Plated, Beryllium Copper for tarnish r

esistance & long insertion life.
Body: Brass, Nickel Plated
Spring: Beryllium Copper, Nickel Plated BNC (Female):
ABS Molded to BNC (Female) and Banana Plug Bodies, Color: Per Part Number
Marking: "1330 POMONA ELECTRONICS POMONA CALIFORNIA"
Set Screws (#8
-

32 Single Slot): Steel, Zinc Plated
Voltage:
Hand-

held Testing: 30VAC/60VDC Max.
Hand Free Testing in controlled voltage Environment: 5000 WVDC.
Operating Temperature: +50°C (+122°F) Max.
ORDERING INFORMATION:
Model 1330-

*
*=Color, Standard Colors:
-

0 Black,

-2 Red